NEWS
08.05.2016
2nd Live CD at Blues Now! released: Big Pete Live at Blues Now!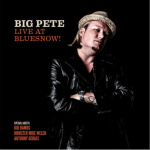 The concert of Big Pete at the Blues Now! Anniversary Festival in Basel was released in the Netherlands. It can be ordered via mail order: Buy CD >>

The new CD will soon be distributed throughout Europe and in the US. Guest stars such as the guitar heroes Kid Ramos and Monster Mike Welch as well as outstanding piano player Anthony Geraci (of Sugar Ray Norcia & The Bluetones) are supporting Big Pete in this outstanding performance that took place August 15, 2014. The Live CD of Big Pete is the highly anticipated second CD as a leader after the critically acclaimed CD "Choice Cuts" released on the famous US Delta Groove label in 2011.

Big Pete Live at Blues Now! is the second live CD that was recorded in Basel. The first one was the critically acclaimed Live at Blues Now! by the Chris O'Leary Band (released 2014).